Pico de Gallo also called Salsa Mexicana, is easy to make, and a tasty dip for tortilla strips and to compliment fajitas, tostadas, and other Mexican favorites. Recipes abound, but this one is easy and good. Again, experiment and make changes to match your taste. In Spanish it literally means the roosters beak. The reference to Salsa Mexicana is because the primary ingredients are red, green, and white – colors in the Mexican Flag
There are hundreds of recipes on the web for pico de gallo, and it's easy to modify to suit your individual taste.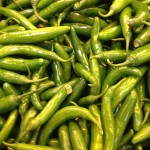 Fresh Pico de Gallo
Fresh onions and peppers makes a fresh and tasty salsa for chips, tostada, etc.
Instructions
Preparation
Dice and combine all ingredients. Refrigerate a couple hours before serving - this allows the flavors to combine. See caution below on handling chili peppers.
Caution!
Be careful when handling hot peppers - the chemicals can burn the skin and be very careful not to touch your eyes or other mucus after handling chilies.