This is a light, creamy salsa that is very easy to make and really good as an alternative to tomato salsa. There is no cooking involved. You can make it tangy or spicy depending on your choice of peppers. I used one jalapeno pepper (tangy) – if you want zippy, use two jalapenos or one or two serrano peppers, which are hotter. This recipe will serve about 8 people. My tasters all loved it.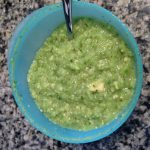 Tangy Avocado-Tomatillo Salsa
A nice alternative to tomato-based salsa. Easy to make with no cooking - just chop and puree the fresh ingredients.
Ingredients
Instructions
Husk the tomatillos – the husk is easily removed if you run them under cold water while peeling back the husk and then twisting it off. If you don't do it in water the fruit is kind of sticky and it makes husk removal harder. Chop the tomatillos, onion, garlic, peppers, avocado and cilantro. Place the chopped ingredients plus the lime juice, vinegar, and salt in a food processor or blender and pulse to achieve a thick puree. The peppers are hot and can cause irritation to skin, eyes, etc. I usually trim jalapeno peppers without gloves, but I would use gloves with serrano peppers. Here is a link to our article called "A Primer on Peppers" if you want to learn more.
You can make this salsa ahead of time and store it in the refrigerator for up to three days. Serve with tortilla chips.