Here is Mrs. Lyndon B. Johnson's "Pedernales River Chili" recipe. (pronounced Per-Den-Al-Es ). It gets its name from the river that flows past the LBJ Ranch – the famous Texas White house. President Lyndon Johnson's family chili comes courtesy of the LBJ Library in Austin Texas.
The following quote is attributed to Lyndon B. Johnson, 36th President of the United States, "Chili concocted outside of Texas is usually a weak, apologetic imitation of the real thing. One of the first things I do when I get home to Texas is to have a 'bowl of red'. There is simply nothing better." LBJ would certainly not lead us astray.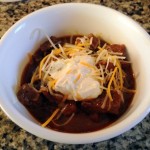 LBJ's Family Chili Recipe
This chili is simple - beef, onion, tomatoes, garlic and spices.
Ingredients
Instructions
Cooking instructions:
In a large frying pan, brown meat with onion and garlic until meat is lightly browned; transfer ingredients to a large heavy kettle or a cast iron dutch oven.
Add oregano, cumin, chili powder, tomatoes, hot sauce, salt, and hot water. Bring just to a boil; lower heat and simmer, covered, for approximately 1 hour or until the meat is tender.
Remove from heat. Skim off grease and serve, topped with your favorite condiments.