Shrimp with tomato, garlic, and Anaheim pepper. Simple to prepare and delicious.
Mexico has about 6,000 miles of coastal waters. It is therefore no surprise the there are many great Mexican seafood dishes. If the dish is labeled a la Mexicana you can be assured it contains tomatoes, onions, and Chile's, combined here with plentiful shrimp from the coastal waters of Mexico.
The recipe serves six, but can easily be divided. I really love shrimp, so I usually plan on a half pound per serving.
Serve with Mexican rice, charro or refried beans, and warm flour or corn tortillas. Garnish with chopped parsley.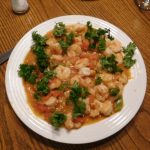 Yield: about 6 servings
Prep Time: 15 minutes
Cook Time: 15 minutes
Print
Mexican Style Shrimp
This recipe has basically two parts. The sauce consists of the tomatoes, pepper, and spices. The shrimp are sauteed separately and combined with the sauce  and pepper sauce, and the sauted shrimp, which are combined before being served.
Ingredients
Instructions
Peel the tomatoes - place them in boiling water until the skins split and they peel very easily. Coarsely chop the tomatoes and set aside.
Peel the anaheim pepper. They can have tough skin. To make it easier toast the pepper over an open flame on the range or broil them until the skin begins to turn brown, but be careful not to burn them. Toasting can also be done in a comal or heavy frying pan by holding the pepped flat with a spatula. After toasting, microwave the pepper in a paper bag for about 20 seconds. Slice the pepper into short 1/4 inch strips and set aside.
Place the oil in a large sauce pan and saute the onion until it begins to soften. Add the minced garlic and continue to saute for another couple minutes, being careful not to burn the garlic.
Add the chopped tomatoes and cook over medium heat for five minutes stirring regularly. Add the salt, pepper, bay leaves, thyme and sliced anaheim pepper. Cover and simmer on low heat for five minutes, stirring occasionally.
In a separate pan, lightly saute the shrimp in the butter until they are opaque.
Add the sauted shrimp to the sauce and simmer for 3-4 minutes until the shrimp are done.
Serve the shrimp on a platter or as individual portions. Garnish with the chopped parsley.
Allergens
Allergens