It's easy to make your own taco chips, and they are tasty thick chips that do not break when you try and scoop up some queso dip, salsa, or bean dip. Plus it is a great way to use up corn tortillas that are still good, but a little on the stale side.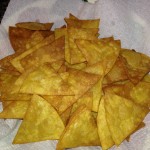 Yield: 45-60 chips
Prep Time: 5 minutes
Cook Time: 10 minutes
Serving: as desired
Print
Home made taco chips
Cut chips into wedges or strips and fry a minute in corn oil and sprinkle with salt.
Ingredients
corn tortillas - As desired. six wedge-shaped chips per 6 inch tortilla
corn oil - As required for 1/4 depth in a deep frying pan
salt - fine grained
Instructions
Slice corn tortillas into wedges or strips – I prefer wedges. Cut them like a pie – into six sections. It is best if the tortillas are a little 'stale' or dried out. You can spread them on oven racks at 200 degrees for a few minutes to dry them out a bit if they are real fresh. They should not be real dry – but not limp.
Heat about ¼ inch of oil in a deep frying pan to medium - medium high heat. It takes a little bit of practice to get the heat just right. You do not want it to smoke (too hot) but the chips should 'sizzle' when added to the oil. As soon as the edges just start to turn tan – flip them over with a spatula and cook a bit more. Be careful – they brown very quickly – the whole batch cooks in about a minute. When they just turn brown, remove them quickly and place on a plate lined with paper towels and sprinkle with salt immediately. Repeat the process until you have the desired amount of chips. These are really good!