I had not heard of this Mexican dish until this past summer while in Minnesota. We went to dinner at a place called the Granite City Brewery where they had a dish called Chicken Tinga Sopes. I had to try it, and it was fantastic. Here is their description of the dish:
"Crispy corn tortilla cups, chicken tinga filling, shredded lettuce, fire-roasted corn & black bean salsa, avocado salsa verde, queso fresco, pickled Fresno chili, fresh cilantro."
This recipe is for the chicken tinga filling. The the corn and black bean salsa, the avocado salsa verde, and the peppers are covered as separate recipes. They can all be used in other dishes.
Sopes are cup-shaped corn tortillas. They will be covered separately as well. Here in Texas they are available pre-made in many grocery stores, so check in the dairy case. You may have to ask for help finding them. I suggest using them because they greatly simplify making this dish. 
Chicken tinga recipes abound on the internet. In this recipe I aims for simplicity. I know using too many ingredients will prevent many readers from trying them. This recipe makes enough for eight six-inch tacos so let's say it will serve four people. It is also enough for maybe a dozen sopes. It freezes well so make a full recipe.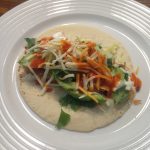 Chicken Tinga – Tinga de Pollo
Chicken tinga is a great topping that can be the main ingredient for sopes, tacos, tostadas, or burritos. It is full of zesty tomato flavor.
Ingredients
Instructions
Place about 2 cups of water in a medium size kettle. Add the smashed garlic clove (or minced garlic), one teaspoon of the salt, and the bouillon to the water and mix together while heating. Add the chicken and bring to a boil. Add water just to cover the chicken if needed. Simmer the chicken for about 20 minutes until cooked through – or until the internal temperature reaches 165 degrees. Remove the chicken and set aside to cool, reserving the liquid. When cool enough to touch, shred the chicken by hand or with a fork and set aside.
Roughly chop the yellow onion. Finely chop two of the Chipotle peppers. Add the olive oil to a deep sided skillet and heat to medium. Add the chopped onion and cook until almost translucent, but do not let them brown. Add the fire roasted tomatoes and their juice, the Chipotle peppers and about a tablespoon of their sauce, a teaspoon of salt and the oregano and simmer gently for about five minutes to allow the flavors to combine. Add the shredded chicken and continue to stir and heat until the chicken is hot. If it get too dry, add a tablespoon of the reserved poaching water. It is ready now ready to serve on flour or corn tortillas along with your favorite toppings.