Making chicken fried steak at home is not difficult. I was really amazed at hot good this turned out – especially the gravy! This recipe is a clear winner.
There is really very little preparation needed. It is important that the meat is thin – about a quarter inch thick. This will allow it to cook through without getting the coating overdone. Use round steak or bottom round steak. Cut the meat into serving-sized portions, bearing in mind that the portions will get bigger as you pound them out. I used a french rolling pin to pound the meat, but I think a tenderizing hammer would be easier and do a better job.
So, the steps are:
1. Prepare the meat.
2. Dredge the meat and fry it.
3. Make the gravy and serve.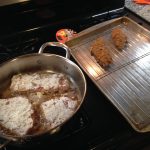 Chicken Fried Steak
Ingredients
Instructions
The goal is to end up with serving-sized pieces of steak that are about ¼ inch thick, so plan accordingly. Place the eggs and flour in separate pie plates. Sprinkle the meat with salt and flour. Dredge the meat in flour and then pound until about ¼ inch thick. I just used a French rolling pin, but you could also use a meat tenderizer hammer if you have one. Once tenderized, dredge the meat in the flour, then in the egg batter, and then again in the flour. Place on a rack and let it sit for about 15 minutes. Continue this process until all the meat is floured.
Place enough oil in a skillet at medium-high heat to cover the bottom of the pan. When the oil shimmers, place the meat in the skillet and cook until golden brown – about 4 minutes per side. Place the meat pieces on a baking sheet in the oven to keep warm. Do this until all the meat is cooked.
To make the gravy, add the remaining oil (at least a Tbsp.) to the pan used for frying the meat. Whisk in 3 Tbsp of the flour used to dredge the meat. Add the chicken broth to deglaze the pan. Whisk until the gravy comes to a boil and begins to thicken. Add the milk and and the thyme and continue to whisk until the gravy coats the back side of a spoon – 5 to 10 minutes. Taste the gravy and add salt and pepper to taste. Serve the steaks with the gravy
Allergens