Pork Carnitas are called the king of taco meat. Carnitas literally means "little meats", and is typically made from pork, often cooked in lard. If you are like me, you do not have a bucket of lard to use, and my research tells me that it adds no flavor to the meat, only helps cook it better than water-based liquids. This recipe uses only the fat naturally available in the pork, which boosts flavor and cooks the meat without adding lard or other fats. Recipes that add liquid can result in dry meat – not juicy perfectly cooked pork. This slow cooker recipe results in tender juicy pork with the crispy tasty edges achieved by frying the cooked pork once it is done and pulled apart into small pieces.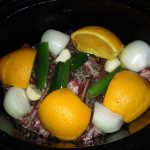 Yield: 6 servings
Prep Time: 30 minutes
Cook Time: 3h 00 min
Print
Slow Cooker Pork Carnitas Recipe
This tasty recipe for pork carnitas is simple, using a slow cooker with minimal preparation work. The finished meat achieves delicious crispy edges by frying the finished pork in a frying pan.
Ingredients
Instructions
Cut the pork into 2 to 3 inch cubes, and sprinkle with the salt and pepper. Do not trim fat from the roast.
Pack the meat tightly in the bottom of your slow cooker pan, trying to create a single layer of meat. Add the spices and then the other ingredients on top of the meat. Half-squeeze the orange quarters to get some juice in the pan. Drizzle up to a quarter cup of vegetable oil on the meat to prevent drying.
Set your slow cooker to high and cook for at least 3 hours – until the pork is tender and falling apart. Try to maintain a temperature of about 208 degrees F.
When the pork is tender, remove the orange, cinnamon, garlic, and onion and discard. Remove the meat from the cooker and allow to cool until you can handle it. Reserve the pan liquid.
When cool, use your fingers or two forks to shred the meat into small pieces, removing the excess fat. Place the meat in a bowl. Using a spoon, remove the fat from the reserved pan liquid. Discard the non-fat liquid.
To achieve a nice crispy finish to the pork, drizzle the reserved meat fat over the pork and fry the meat in a large frying pan at high temperature, turning frequently. When the desired crispy edges are achieved, it is ready to serve.
Serve in tortillas – corn or flour – topped with your favorite ingredients, such as cilantro, diced onion, diced tomatoes, guacamole, sour cream, shredded cheese, etc.