This is a simple poultry recipe for Cornish hens basted with a simple mango sauce. It involves brining the Cornish hens, making the basting sauce, and baking the birds. The connection to Mexico is the use of mangoes, which grow and are popular throughout tropical regions of Mexico. The recipe was adapted from the book "Mexico – The Beautiful Cookbook", I only made two hens, but the sauce is actually enough for up to 6 hens. The only 'exotic' ingredient is the canned mangoes. If you have an H-E-B nearby they sell a 15 ounce can of Libby's mangoes in syrup. Check the hispanic section of your local supermarket. The method of baking and basting the birds is important to this recipe, so pay particular attention to that.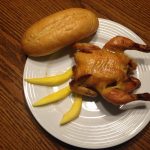 Yield: 1 hen per person
Prep Time: 2h 00 min
Cook Time: 60 minutes
Print
Cornish Hens with Mango Sauce
Ingredients
Instructions
Prepare the hens:
Rinse the thawed hens and remove giblets (if included). Prepare the brine by mixing the salt, ground black pepper, and minced garlic in the water until the salt is dissolved. Place the Cornish hens in a gallon freezer bag and add the brine. Refrigerate for 2-3 hours.
Make the mango sauce:
Puree the canned mangoes with their syrup. Melt the butter in a skillet. Add the puree and the brown sugar and stir. When the mixture comes to a boil, remove from the heat and set aside.
Baking the hens.
You will need about 4 Tbsp melted butter – more if needed
Preheat the oven to 450 degrees. Place the hens, breast side down, on a greased or sprayed edged cooking sheet. Lining the sheet with aluminum foil makes clean-up easier. Baste with melted butter and bake for 20 minutes, basting occasionally. Turn the hens breast side up, baste with butter and bake 20 minutes, basting frequently. Turn the oven heat down to 375 degrees, turn the hens again, and bake for 10 minutes. Turn the hens breast side up, and baste liberally with the mango sauce. Bake another 5 to 7 minutes basting with the sauce a couple times or until the birds are golden brown. Check the temperature of the meat to ensure it is at least 165 degrees. Serve immediately. Garnish with fresh sliced mango if desired, Serve with leftover sauce for added mango flavor.