Here is an easy recipe for Tomato Salsa.
My goal here was to come up with a recipe for salsa like you find in restaurants here and in Mexico. I was looking for eye appeal, flavor, a nice texture, and some "heat". I also wanted to have one that was good whether served cold or warm. Enjoy!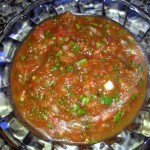 Yield: About 3 Cups
Prep Time: 20 minutes
Cook Time: 15 minutes
Print
Roasted Tomato Salsa
Recipe Summary: This is an easy recipe made in three steps. First prepare and roast tomatoes and peppers. Second, dice onion and cilantro, Third, blend ingredients.
Ingredients
Instructions
Preparation:
Set your stove to broil with the oven rack 4 to 5 inches from the top.
Line a rimmed cookie sheet with foil and spread a little olive oil or cooking spray on it. Place the tomatoes and jalapenos on the sheet open side up, along with the whole serrano pepper and the garlic cloves. Place in oven and broil for 5 to 6 minutes - until things start to get a little brown. Turn everything over and grill for another 5 to 6 minutes. With the skin up you should see the tomatoes and peppers brown and 'blister' a bit. Remove from oven and cool a few minutes. Remove most of the tomato skins. Squeezing the garlic clove should extrude the garlic from the peel easily - you may have to cut off the thick end.
Place 1/2 of the tomatoes, the peppers, the garlic, Cumin, and salt in a food processor along with pan juices and puree until smooth. Add the remaining tomatoes, the onions, and cilantro to the puree and 'pulse' the food processor a couple times to blend the ingredients while keeping some texture in the mixture. Serve with tortilla chips or on tacos, etc.
This recipe packs some heat. If you like a mild salsa, delete the serrano pepper or one of the two jalapenos.
PotsandPans.com - $5.99 flat-rate shipping on all orders