I saw how to make these on a TV Show on the Cooking Channel, and since my 'official tasters' have been asking for a dessert, I whipped some up, and they are very good.
An empanada is a pastry found in Latin America, the South Western United States, Latin Europe, and parts of Asia. It is made by rolling out a dough that is cut in circles, and then folding the dough around fruit, meat, vegetables, cheese, etc. – sort of a universal dish. Some areas in Mexico trace them back to Cornish pasties brought over by miners. If you are from Michigan or other hard-rock mining areas you may be familiar with them.
I have to admit that this recipe needs a little bit of work. They are good, however, and when I perfect it a bit more I'll update the recipe on our web site – thebordercook.com.
Now there are numerous ways of making the pastry itself. Just google empanada dough recipes. There are recipes for sweet, or dessert dough, as well as for breakfast or dinner empanadas. Some recipes use pre-made pie crusts. I opted for frozen puff pastry dough.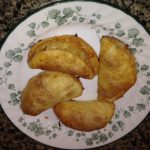 Pineapple Empanadas
This recipe uses frozen puff pastry for simplicity - plus it is very good. The dough is cut into circles and the pineapple, caramel, and cheese is added. The circular dough is then sealed into half-pie shaped pieces and it is baked.
Ingredients
Instructions
To avoid a sugar mess, place aluminum foil on a baking sheet and spray lightly with cooking spray.
Thaw the puff pastry until it can be unfolded without cracking. While still cool, roll out the pastry on a floured surface until almost double in size.
Cut the pastry into circles - I used a five inch plastic bowl as a cutter.
Place about a half slice of drained canned (or fresh) pineapple onto one side of the cut out circle. Do not get the stuffing too close to the edge because you will need an area to seal the empanadas shut when the ingredients are all added. Pour about a tablespoon of caramel over the pineapple. TIP - If the caramel is cool it will not run as easily. Sprinkle about a tablespoon of the cheese onto the caramel.
Mix a tablespoon or two of water with the egg and brush on the edges of the empanada dough. Fold the dough in half and press with a fork or pinch the edges together to seal the dough in a half-moon shape.
Optional - brush a bit of egg wash on top on the empanada and sprinkle a bit of turbinado (raw) sugar on each one for a nice sugary glaze.
Place the empanadas on the lined baking sheet and bake for 25 - 30 minutes at 250 degrees until nicely browned. Serve while warm. You can expect some sugar to get on the foil and sometimes they empanadas do not stay sealed. Don't worry - remove any burned sugar before serving - they will still be good.
Optional – make apple empanadas by substituting thin slices of a granny smith apple sprinkled with a little sugar and cinnamon mixture for the pineapple.
I confess - I have trouble sealing empanadas well - just look at the photo. Here is a link to a handy empanada press gadget for making empanadas, pierogi, pocket pies, etc. I am going to order one of these!
Allergens