Sopa de Fideo – Noodle Soup.
This is a simple recipe for a flavorful and hearty mexican noodle soup. It uses simple ingredients and cooks up quickly. This recipe is simple noodle sop, but you could easily expand it by adding some shredded cooked chicken.
I can not remember seeing noodle soup on any restaurant menu I've ever been to. I should not be surprised since noodles have been around a long time and in all cultures, worldwide. When I ran this soup by my tasters the ratings were from 8.5 to 9 on a scale of one to ten. That being said – all samples were consumed within seconds! The only complaint was that one taster did not like shape of the noodles. That is easily fixed by using a noodle shape of your own choice! One recipe I reviewed before creating my own used alphabet noodles – your choice.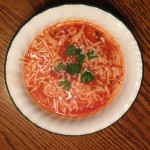 Sopa de Fideo – Mexican Noodle Soup
Ingredients
Instructions
Peel and chop the onion and mince the garlic ahead of time.
Place the can of tomatoes in a blender and puree until smooth – add a little of the broth to thin out.
Put the olive oil in a kettle and add the noodles (broken into 1 to 2 inch pieces).
Cook the dry noodles over medium low heat until they start to brown slightly.
Add the onion, garlic, spices, and continue to cook until the onions are softened.
Add some of the pureed tomatoes to the noodles to stop the browning.
Continue to cook a few minutes more, then add the rest of the tomatoes and the chicken broth.
Add the whole jalapeno pepper and bring mixture to a boil.
Reduce heat and simmer for about 15 minutes, until the noodles are soft.
Optional: add some shredded cooked chicken when simmering.
Add lime juice and cilantro when cooking is complete.
Serve hot with taco chips, crackers or tortillas.
Allergens
Allergens