Texas caviar is a sweet bean salad often served with tortilla chips. This is an easy recipe that is best if made a day or two ahead of serving time so the flavors to mix.
No tasters needed to this recipe – one of my official tasters made it for a party and everyone went for it like hogs at a trough! Thank you Linda for sharing this recipe.
Now if the truth must be told, Wikipedia tells us it was actually invented by Helen Corbitt, a New york native, in about 1940. She was food director at the Zodiac Room at Neiman Marcus in Dallas, Texas. They say it was first served at a New Years party at the Houston Country Club.
If you look online, you will discover a LOT of recipes for this dish. If you do an exact google search (by entering "texas caviar" in quotes instead of simply texas caviar without quotes) you will see that there are about 130,000 results! So, bottom line – this is nothing new. Numerous variations can be found. All that being said, start with the basic recipe below and experiment a bit with the recipe. Try adding diced green, yellow, or red pepper, diced cucumber, radishes, diced squash, carrots, – pick your favorite ingredient!
This recipe is sweet – with no 'heat'. Want to experiment? Add a little cayenne pepper instead of just black pepper. Like cilantro, add some. Dice a jalapeno pepper and toss it into the mix. You can really invent your own version of Texas caviar.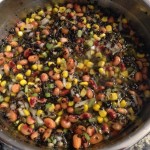 Yield: 2 quarts
Prep Time: 30 minutes
Cook Time: 10 minutes
Print
Texas Caviar
1. Prepare the vinaigrette dressing and allow it cool.
2. Prepare the canned and fresh ingredients.
3. Combine and refrigerate until time to serve.
Ingredients
Instructions
Combine the vinegar, olive oil, sugar, salt, and pepper in a sauce pan and bring to a boil until mixed. Remove from heat and cool to about room temperature.
Rinse and drain the beans and corn in cold water in a colander until the water runs clear. Place in a bowl along with the onions, olives, and and celery. Pour marinade over the vegetable mixture and stir to combine.
Cover with plastic wrap and refrigerate for from 24 to 48 hours, stirring occasionally.
Use a slotted spoon to place mixture in a serving bowl.
Serve with tortilla chips, snack crackers, or by itself as a salad.
Enjoy!