These beans are my choice when I go to a Mexican restaurant. Charro beans are named for the traditional Mexican horsemen, or Charros. The key ingredient in Charro beans are dried Pinto beans – which translated means "spotted beans" or "speckled beans" – sort of like the horse. According to Wikipedia, Pinto beans are the most popular bean in the United States and Northwestern Mexico, and were once a food staple, especially during the winter months.
These beans are most often stewed with Bacon, onions, garlic, and other ingredients such as peppers, tomatoes, cilantro, ham, sausage, chorizo, potatoes, etc. They are served warm, in a bowl, and have a somewhat thick soupy consistency.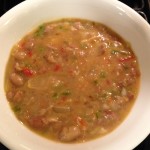 Charro Beans
This Charro bean recipe is a variation is known drunken beans, or Frijoles Borrachos, because it contains beer. Regular Charro Beans are Frijoles Charros. If you don't want the beer, don't add it - it only calls for six ounces, and it is cooked until almost completely evaporated.
Ingredients
Instructions
Add pinto beans to a pot of cold water and soak overnight. Pick them over and remove foreign material or damaged beans.
Add beans to a pot of water so the beans are covered by an inch of water. Boil gently for 1 to 1 ½ hours until the beans are tender but not mushy. Drain the beans and reserve the liquid.
While the beans are boiling, fry the bacon until almost crisp and remove it from the pan, saving the bacon grease.
Add the onions to the bacon fat and fry until tender and slightly browned.
Add garlic, tomato, bell and jalapeno pepper to bacon fat and cook until tender.
Return bacon to pan, add the optional beer, if used, and cook until the liquid is almost gone. If not using beer, just skip this step.
Place the cooked beans in a large pot, add the fried bacon, onion, and pepper mixture. Add the cilantro.
Add enough of the reserved liquid from cooking the beans to just cover the beans.
Heat mixture until hot. Salt and pepper to taste.
Optional – puree a cup or more of the bean mixture in a blender and return to the pot to make the beans thicker. Serve as a side dish with tortillas, or to compliment any meal.