This recipe for tortilla soup is a clear winner.
The average rating was 9.6 on a scale of 1 to 10. It would be hard to beat this rating. Plus, it is really easy to make! Of my 10 tasters 5 of them had eaten tortilla soup before, and all 5 that had eaten it before said this recipe was better than any tortilla soup they had eaten before.
All ingredients are available at HEB grocery stores in the Rio Grande Valley, and should be available at most large grocers. Of special interest is a dried pepper called the chili Pasilla (or chili negro) pepper, so named because they are almost charcoal black when roasted. It is a rather long (6 to 8 inch) pepper which has a wonderful aroma and is mild to medium in heat – similar to a Poblano pepper. It is the dried form of Chilaca chili. If you can not locate Pasilla chilis, you might enjoy experimenting with other dried peppers, such as the chili Ancho, a dried poblano pepper, or possibly a couple of dried chili Cascavel – Guajillo peppers.
A word about using dried chilis. Since they are dried in the open or outside, many people recommend washing them. You can wipe them off with a damp paper towel, or you can rinse them under running water. In preparing them, you will almost always toast them and sometimes re-hydrate them in hot water. If you re-hydrate them in hot water that would be the same as washing.
The other interesting ingredient is a spice called Epazote – available as a fresh herb in the produce department at HEB. It is sometimes called Mexican Tea. If unavailable as a fresh herb, dried Epazote is available online and can also be used. If not available, do not worry. The soup is tasty enough, and sprinkling some diced cilantro on it when servicing would be great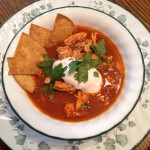 Chicken Tortilla Soup
There are many recipes online for chicken tortilla soup. This recipe was inspired by a recipe for Sopa Azteca by celebrity chef, restaurant owner, and cookbook author Rick Bayless. Visit his web site here at www.rickbayless.com/
Here is a summary of the steps to this recipe. Poach the chicken breasts. Wash and toast the chili pepper. Puree chili pepper and diced tomatoes. Saute onion and garlic. Puree onion and garlic with tomato and pepper puree. Reduce tomato puree, add chicken broth and simmer. Dice avocado and grate cheese. Add chicken until hot. Serve.
Ingredients
Instructions
Instructions:
Poach the chicken breasts in water with a teaspoon of Kosher salt until cooked through. Set aside to cool.
Wipe the pepper off with a damp paper towel and toast the Pasilla pepper – either by holding it with tongs a few inches over an open flame on a gas range, or heating it in a dry frying pan at low to medium heat while pressing down on them with a spatula. Heat them until the pepper aroma is noticeable, but do not burn the pepper. After toasting, cool, cut off the stem, split the pepper, and remove the seeds and webbing.
Break the toasted pepper into pieces and place in a blender. Add the diced tomatoes with their juice to the blender. Puree the peppers and tomatoes and leave in the blender.
Add the oil to a 4-quart kettle and bring to medium heat. Cook the onion and garlic until lightly browned, stirring frequently. Using a slotted spoon, remove the onion and garlic from the oil, straining out as much oil as possible. Discard any excess cooking oil. Place the onion and garlic in the blender with the tomato and pepper mixture and puree until smooth.
Pour the mixture from the blender into the kettle and raise to medium-high heat. Stir the mixture constantly until it reduces to the consistency to nearly that of tomato paste. Add the chicken broth, cayenne pepper if desired, and the Epazote (if used). Taste the mixture and add Kosher salt to taste, stir, reduce heat, and simmer for 20 minutes. Before serving, shred the poached chicken breasts, add to the broth, and heat for about 5 minutes – until hot.
To serve, divide the cheese and avocado into the bowls and ladle the soup into the bowls. Sprinkle on a few tortilla chips and add a dollop of Crema or sour cream to each bowl, sprinkle with fresh diced cilantro and lime juice if desired. I think you will really enjoy this!
If you have not made your own tortilla chips, I recommend you try it. It's easy, and these hearty chips go well with the tortilla soup. We provide instructions for making your own tortilla chips on our web site.
Rachael Ray Cookware - save big on PotsandPans.com Outlet
Paula Deen Cookware - save big on PotsandPans.com Outlet
Allergens
Allergens