This is a satisfying chili made with readily available ingredients. Chipotle chilis are red ripe jalapeno chilis that are roasted over a wood fire. Buy them canned and packed in adobo sauce, which is a sweet and tangy puree of tomato, vinegar, garlic, and spices. The "con Carne" label means with meat – in this case beef stew meat.
Preparation summary: This recipe is very easy to prepare. You will season and brown the meat. Simmer the meat in a stock until tender. Shred the meat. Add beans and a few other ingredients to the meat. Simmer and serve.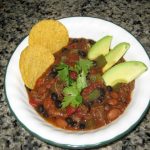 Yield: 6 bowls
Prep Time: 15 minutes
Cook Time: 1h 30 min
Print
Chipotle Chili con Carne
Ingredients
Instructions
Measure and combine the chili powder and cumin in a bowl. Add the trimmed and cubed meat and stir until the spices coat the meat.
Heat the oil to medium heat in a large sauce pan or dutch oven. Add the seasoned beef and stir for about 5 minutes until nicely browned. Add the beef broth and the chipotle and adobo sauce and bring to a boil. Reduce the heat and simmer, covered, until the meat is tender, about an hour and fifteen minutes.
When tender, use a slotted spoon to remove the meat from the broth. Reserve the broth. Use two forks to shred the meat into smaller bites. Return the meat to the broth. Add the tomatoes (with juice) and the bell pepper. Bring to a boil and stir in the drained and rinsed beans. Simmer for about 20 minutes, or until the bell pepper is tender. Serve while hot.
Now make it your own! Here are suggested garnishes. Sprinkle your chili with fresh chopped cilantro (highly recommended), add a few slices of avocado, add a few tortilla chips, add a spoonful of sour cream or Mexican Crema, add a few drops of Cholula or other hot sauce, sprinkle with shredded cheese of your choice, add chopped onions.
Enjoy!