In the February 17th edition of the Welcome Home RGV Newspaper I had an article about Texas barbecue. In that article – which turned out to be a bit lengthy – I talked about types of Texas barbecue, and provided instructions on how to prepare and use a basic pork run, and how to make pulled pork at home. On this web site, it was published as an article, not a recipe.
I have re-published the portions of the article here – as a recipe. The actual recipe is for the spice rub, and the process for barbecuing the meat.
For barbecue history read the article.
For the spice rub and instructions for cooking the meat, continue below!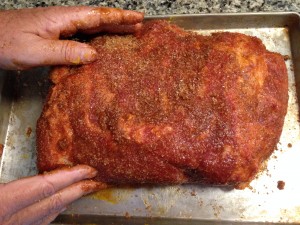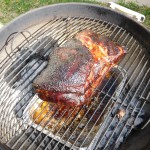 Pulled Pork Barbecue
Prepare the spice rub and apply to meat.
Refrigerate covered for 3 to 12 hours.
Follow instructions for "low and slow" barbecuing.
Ingredients
Instructions
Combine the dry ingredients and mix together.
Rub the pork roast all over with yellow mustard - it will help the spice rub stick to the meat, and you will not taste it. Apply rub to meat and refrigerate covered with plastic wrap for from 3 to 12 hours. Remove from refrigerator and allow to warm to near room temperature before placing on the grill.
Place a disposable aluminum pan in the grill and bank live coals on the sides of the grill. You are aiming for a low - 250 degree F. - temperature. Dampen wood chips and place on coals for flavorful smoked taste. I used apple wood chips for the pork - it adds a sweet flavor to the pork.
Check your coals about every 30 minutes, and add coals to keep the fire going. Replenish the wood chips for several hours. The 9 lb. roast I barbecued required 7 hours to reach the desired 195 to 205 degrees internal temperature. Once the pork has developed a nice 'crust', you can transfer it to your oven to get the desired temperature. When at the desired temperature, remove and allow the meat to rest for 30 minutes, covered loosely with foil.
Use fingers, forks, or 'bear claws' to pull and shred the roast apart. The crust should be removed and chopped into bits and added to the shredded meat for added flavor.