Nothing spices up happy hour more than a rich, smooth, Queso dip. This tasty recipe is easy to make, and can be used as a dip, or as a topping for your own signature nachos.
As written, this dip is very mild, but you can spice it up and make it your own.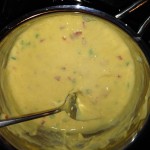 Yield: about 2 Cups
Prep Time: 5 minutes
Cook Time: 10 minutes
Print
Queso Cheese Dip or Sauce
Home made queso cheese dip is easy. You will be using corn starch as a thickening, and combining it with milk, butter, and cheese. Add some tomato or peppers to spice it up.
Ingredients
Instructions
Heat the milk in a microwave until hot - not boiling. Melt the butter in a 2 quart sauce pan over low heat. Add the corn starch to the butter and mix to make a smooth paste. Add the milk and salt mixing as you add. Add the salt and cheese and bring up to medium heat. You will need to stir the mixture vigorously to remove any lumps. If too thick for your liking you can add a tablespoon or two of milk to thin it out. Optional ingredients to spice it up a bit when smooth. Add diced peppers, tomato (if desired), and diced jalapeno. You can also add some hot sauce if you like it spicy!
Serve hot or drizzle over nachos.
See homemade tortilla chip recipe here.
Allergens
Allergens